The Showgirls welcome sponsorship advertising. We're are on the lookout for relevant companies and local government organisations who's values align with ours.

The Showgirls value equality, diversity, inclusion, acceptance, tolerance, respect, courage and strength through adversity. If our values resonate with you and you would like your brand to be viewed positively as a participating member of our community the Showgirls will welcome you with open arms as our advertising sponsorship partner and feature your brand prominently in all of our high quality media productions.

Please use the form below to purchase advertising sponsorship. Your advertisement will be inserted prominently into each one of the next months Showgirls videos and your logo and brand will be emphasised and given as much exposure as possible.

Your advertisement will remain visible in the Showgirls videos forever. No matter how far and how wide the videos are shared on Facebook, YouTube, LinkedIn, Instagram and other online platforms your advertisment will be visible!

This is an incredible opportunity to associate your companies brand with the LGBTQI+ community in general and the Showgirls in particular!

Sponsorship advertising is our premium product. We use the funding we receive from advertising sponsors in order to help finance our monthly Showgirls events at the Pride of Our Footscray Community Bar. The funds are put towards gowns, dresses, makeup and cosmetics, costumes and other products the trans performers need to put on an incredible show for both the patrons present at the bar and for the cameras and an international audience!


Purchase Advertising Sponsorship: $299 AUD
Example of one of our sponsors advertisements - Maki Mix ad in Erica's performance (click screenshot):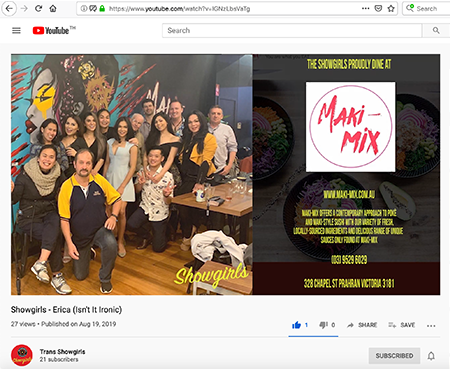 Example of one of our sponsors advertisements - Chrysalis Australia and INTJ Billing (click screenshot):